The Colour Run
The Colour Run is one of the brightest events in the Montmorency Secondary College calendar that proudly supports the Cystic Fibrosis charity, a cause that is an integral part of our College community. It is an opportunity for everyone to express their love and support to students and their families who are affected by Cystic Fibrosis.
The Colour Run was introduced to Monty by past students, Macy Houghton and Chole Giles, who worked tirelessly to organise and get permission to run such an exciting event. Their efforts, paired with the SRC members who have supported and worked on this event years after in order to keep it running, perfectly highlights the commitment and drive the students of the Monty SRC have towards bettering the community.
This day, that is overrun by colour and fun is now looked forward to every year by students and teachers alike, as the chance to be covered in colour, run or walk with friends and support a charity very close to our College, is hard to pass up.
By Madison Downing
Share the Dignity
In 2017, the idea to choose a charity for a Year 9 Endeavour class was raised within the class, and the work of Share the Dignity was introduced to us. We immediately began
researching this charity.
We were concerned to discover that thousands of homeless women and teenage girls, often fleeing domestic violence or experiencing poverty, do not have access to essential sanitary products. It was distressing to learn that these vulnerable women and teenage girls have to use items such as newspaper or leaves because they cannot afford the luxury of pads or tampons.
We pledged, over the next three years, to collect sanitary items, develop awareness and raise money in our College community for the charity. Ultimately, the goal was to raise $10,000 in three years to purchase a #Pinkbox vending machine, and to support vulnerable teenage girls and women. A #Pinkbox ensures that girls do not miss a quarter of their education from having to stay home due to the embarrassment of not having access to necessary sanitary items.  These true and unfortunate circumstances discriminate against women.
 We organised and implemented school events such as the 'Dignitea' (inspired by Share the Dignity's own morning tea), various chocolate raffles, Krispy Kreme doughnut days, and a 'Monty School Faculty Dance Off'. We also had a guest speaker attend our College and speak on behalf of the charity at one of our school assemblies.  We held a 'House Colour Dress-up Day' in conjunction with 'House Off', and sold Beeswax wraps to our College
community, with all monies raised going to the charity.
We fought hard to raise awareness and our $8000. We also had to overcome the stigma
surrounding public discussion of feminine hygiene. Many people argued that the school was not the appropriate place to discuss this injustice, however, it is only through breaking these taboos that real change happens.
Near the beginning of 2020, due to the Coronavirus pandemic, we had to put our goal on hold, but made the decision to contact Share the Dignity anyway to give them our donations.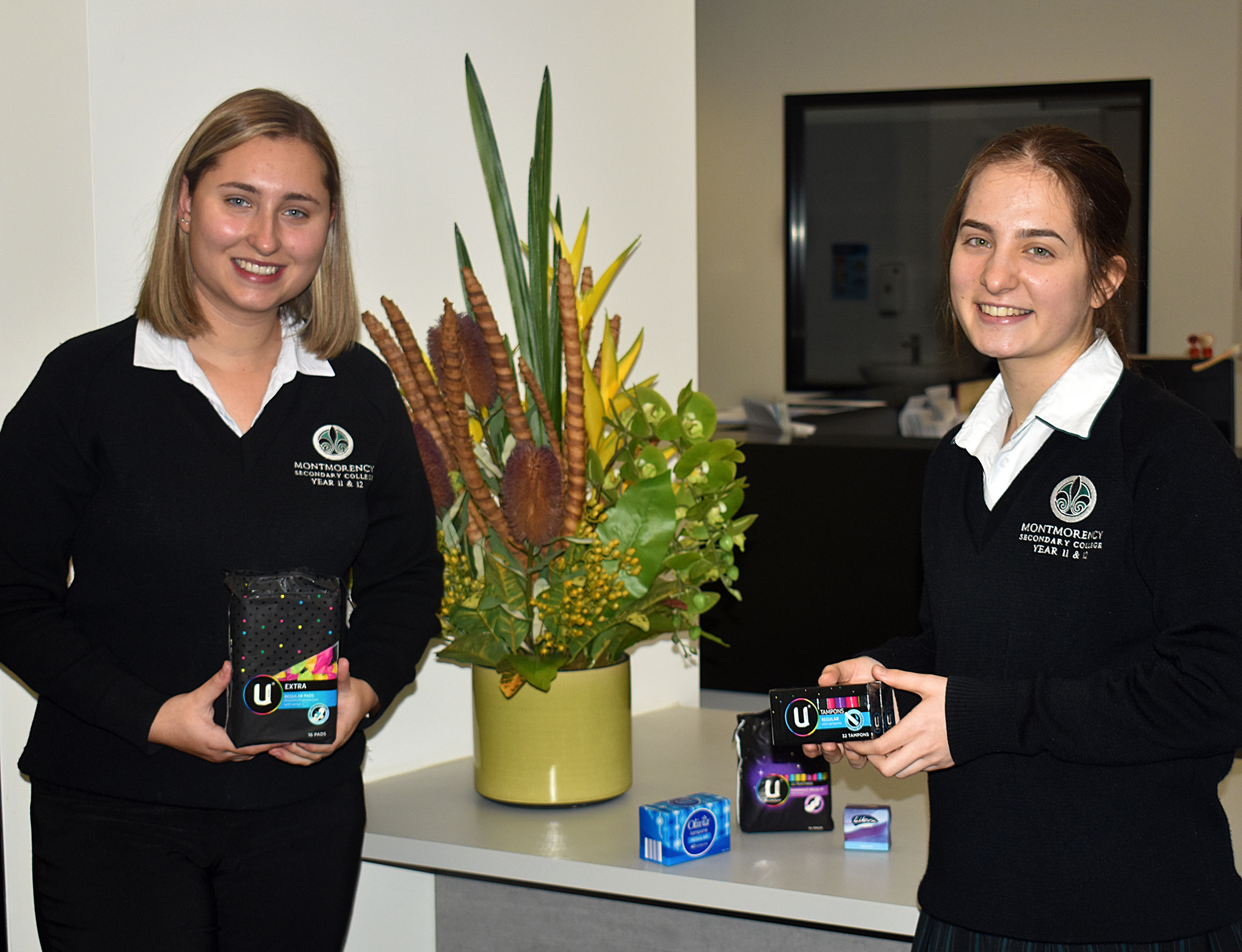 It was with great delight that we were contacted by the Share the Dignity's Chief Executive Officer, Rochelle Courtenay, who proposed a plan to assist us with raising the remaining money so that we could purchase our vending machine.
An online campaign was created and released on Share the Dignity's social media platform. We had to provide a detailed description of our efforts to raise awareness for such a worthy charity.
With the help of the community, members of Share the Dignity and the Montmorency team, we are proud to advise that we passed our $10,000 goal and can now provide a sanitary vending machine to vulnerable schoolgirls in the Gunnedah community of New South Wales.
to know that these individuals can now comfortably attend school, without fear and with dignity, and not have to miss any more of their education.